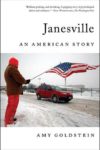 Janesville: An American Story

by Amy Goldstein
on April 18th 2017
Pages: 368
Format: hardback
Genres: Nonfiction, Politics & Social Sciences
See it @ Goodreads


Synopsis
"Moving and magnificently well-researched...Janesville joins a growing family of books about the evisceration of the working class in the United States. What sets it apart is the sophistication of its storytelling and analysis." —The New York Times

A Washington Post reporter's intimate account of the fallout from the closing of a General Motors' assembly plant in Janesville, Wisconsin—Paul Ryan's hometown—and a larger story of the hollowing of the American middle class.

This is the story of what happens to an industrial town in the American heartland when its factory stills—but it's not the familiar tale. Most observers record the immediate shock of vanished jobs, but few stay around long enough to notice what happens next, when a community with a can-do spirit tries to pick itself up.

Pulitzer Prize winner Amy Goldstein has spent years immersed in Janesville, Wisconsin where the nation's oldest operating General Motors plant shut down in the midst of the Great Recession, two days before Christmas of 2008. Now, with intelligence, sympathy, and insight into what connects and divides people in an era of economic upheaval, she makes one of America's biggest political issues human. Her reporting takes the reader deep into the lives of autoworkers, educators, bankers, politicians, and job re-trainers to show why it's so hard in the twenty-first century to recreate a healthy, prosperous working class.

For this is not just a Janesville story or a Midwestern story. It's an American story.
My thoughts on this book
Janesville was devastated by the closing of the General Motors plant in December 2008. Amy Goldstein's book takes us through the five years following the plant closure. Janesville survived the loss of the plant and all of the supporting industries but it never finally recovered.
It was refreshing to get an honest appraisal of what happen in Janesville. Millions of dollars flowed into Janesville for job retraining which proved to be a dismal failure. None of the jobs that Janeville residents retrained for ever returned them to where they were financially before the plant closing. Many of the folks were ill-equipped for retraining as they had no computer skills. As the residents struggled, the city and county attempted to respond by developing identifying possible job skills for retraining it citizens. Various forces worked against some of the folks that were retrained. Even after re-training wages were never equal to what they were paid working for General Motors. Going back you school after being in the work-force for 15 to 20 years is hard. Training a new trade is hard, but learning a new trade in a community where the economic base has been destroyed is near impossible.
Today Janesville, has an underemployment rate of just over 4% but the area has not recovered to where it was prior to the plant closing. There are still residents that are commuting to other GM plants rather than take a cut in wages. I don't see the current administration doing anything substantial to return Janesville to prior economic status. Although Janesville is the home of Paul Ryan, the Speaker of the House, Goldstein makes it clear that Ryan did not involve himself in the in the community as one thought that he should. Janesville is just another example of how we are losing our manufacturing base in this country, while our corporate and civic leaders are doing nothing to find new avenues of meaningful and well-paying employment for its middle class.
I would highly recommend this book, it is honest and forthright.