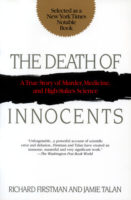 The Death of Innocents: A True Story of Murder, Medicine, and High-Stake Science

by Richard Firstman, Jamie Talan
Published by Bantam on July 13th 2011
Pages: 640
Format: hardback
Genres: High-Stakes Science, Medicine, Nonfiction
See it @ Goodreads


Synopsis
Unraveling a twenty-five-year tale of multiple murder and medical deception, The Death of Innocents is a work of first-rate journalism told with the compelling narrative drive of a mystery novel. More than just a true-crime story, it is the stunning expose of spurious science that sent medical researchers in the wrong direction--and nearly allowed a murderer to go unpunished.
On July 28, 1971, a two-and-a-half-month-old baby named Noah Hoyt died in his trailer home in a rural hamlet of upstate New York. He was the fifth child of Waneta and Tim Hoyt to die suddenly in the space of seven years. People certainly talked, but Waneta spoke vaguely of "crib death," and over time the talk faded.
Nearly two decades later a district attorney in Syracuse, New York, was alerted to a landmark paper in the literature on Sudden Infant Death Syndrome--SIDS--that had been published in a prestigious medical journal back in 1972. Written by a prominent researcher at a Syracuse medical center, the article described a family in which five children had died suddenly without explanation. The D.A. was convinced that something about this account was very wrong. An intensive quest by a team of investigators came to a climax in the spring of 1995, in a dramatic multiple-murder trial that made headlines nationwide.
But this book is not only a vivid account of infanticide revealed; it is also a riveting medical detective story. That journal article had legitimized the deaths of the last two babies by theorizing a cause for the mystery of SIDS, suggesting it could be predicted and prevented, and fostering the presumption that SIDS runs in families. More than two decades of multimillion-dollar studies have failed to confirm any of these widely accepted premises. How all this happened--could have happened--is a compelling story of high-stakes medical research in action. And the enigma of familial SIDS has given rise to a special and terrible irony. There is today a maxim in forensic pathology: One unexplained infant death in a family is SIDS. Two is very suspicious. Three is homicide.
From the Trade Paperback edition.
My thoughts on this book
Sometimes you just can't make this stuff up, truth is always stranger than fiction. There are two stories in The Death of Innocents:
The first is about Dr. Alfred Steinschneider who based his clinical research on Sudden Infant Death Syndrome (SIDS) on the actions of a serial murderer. In 1970 and 1971 Waneta Hoyt lost two children, Steinschneider used these deaths to base his SIDS Research on sleep apnea as a cause of those deaths, he also indicated that it could be inherited trait. In October of 1971 Steinschneider published a paper in the Pediatrics Journal.
For the next two decades, the scientific and medical industries built a multi-million business of diagnosing SIDS as sleep apnea. Clinics were established that received generous funding from both the government and private sources, private enterprise stepped up to manufacture the home infant monitors, everyone got rich and famous but the babies kept dying.
The second story is about a prosecutor that had dealt with another suspicious SIDS death that found and doggedly followed Waneta Hoyt until he was able to bring her to justice.
The husband and wife writing team, do an excellent job of weaving the two stories together. There is no judgment in their writing, it is presented in a factual but readable way. It is an outstanding piece of investigating journalism.
Additional Links:
Wikipedia
Murderpedia