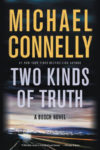 Two Kinds of Truth

by Michael Connelly
Series: Harry Bosch #22, Harry Bosch Universe #29
Published by Little Brown and Company on October 31st 2017
Format: audiobook
Genres: Police Procedural
See it @ Goodreads


Synopsis
Harry Bosch searches for the truth in the new thriller from #1 New York Times bestselling author Michael Connelly.Harry Bosch is back as a volunteer working cold cases for the San Fernando Police Department and is called out to a local drug store where a young pharmacist has been murdered. Bosch and the town's 3-person detective squad sift through the clues, which lead into the dangerous, big business world of pill mills and prescription drug abuse.Meanwhile, an old case from Bosch's LAPD days comes back to haunt him when a long-imprisoned killer claims Harry framed him, and seems to have new evidence to prove it. Bosch left the LAPD on bad terms, so his former colleagues aren't keen to protect his reputation. He must fend for himself in clearing his name and keeping a clever killer in prison.The two unrelated cases wind around each other like strands of barbed wire. Along the way Bosch discovers that there are two kinds of truth: the kind that sets you free and the kind that leaves you buried in darkness.
My thoughts on this book
It occurred to me as I was listening to Michael Connelly's latest Harry Bosch book, Two Kinds of Truth how similar Bosch is to Anthony Horowitz character Christopher Foyle of Foyle's War. In a world that seems in constant disarray it is comforting to find a protagonist that always opts for doing the "right thing".
The Harry Bosch series has over the years provided a high level of performance that other writers have not been able to keep up. There hasn't been one book that has disappointed but the have been some that where outstanding. This was an enjoyable read but not exceptional.